Annual CT Scan Effective in Monitoring Non-Solid Lung Nodules
For patients with non-solid lung nodules, annual computed tomography (CT) scans may be all that's needed to monitor their condition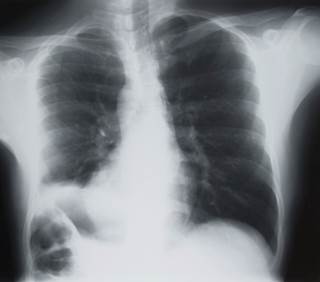 For patients with
non-solid lung nodules
of any size, annual computed tomography (CT) scans may be all that's needed to monitor their condition, a new study suggests. The report was published in
Radiology
.
Claudia Henschke, M.D., Ph.D., director of lung cancer screening at the Mount Sinai School of Medicine in New York City, and colleagues collected data on 57,496 people who took part in the International Early Lung Cancer Program, a worldwide initiative to reduce lung cancer mortality.
At the start of the study, Henschke and colleagues found non-solid nodules in 4.2 percent of those screened, which led to 73 cases of adenocarcinoma being diagnosed.
With annual screenings, another 0.7 percent of the participants had new nodules identified, with 11 cases of stage I adenocarcinoma diagnosed. Patients were followed for an average of six years.
Non-solid nodules developed into solid tumors in 22 cases before treatment, the researchers said. However, the average time from non-solid to part-solid tumors was more than two years.
Treatment of the cases of lung cancer was with lobectomy, bilobectomy, sublobar resection, or radiation therapy, with median time to treatment of 19 months.
The lung cancer survival rate was 100 percent with median follow-up of 78 months from diagnosis.
"In summary, our findings support the safety of annual repeat scans for individuals with only non-solid nodules and that pathologic diagnosis should be pursued only when a solid component develops," the authors write.
"Earlier treatment of these cancers when they were either small or had not yet developed a solid component would have provided no additional benefit."