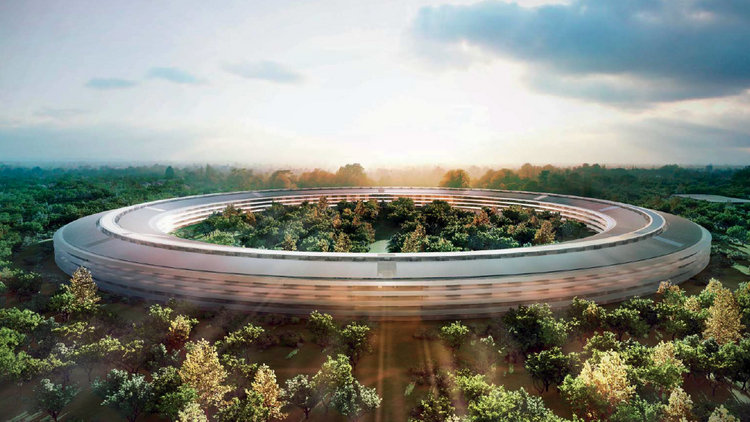 It's official: The lead builders on Apple Inc.'s iconic "Spaceship" campus are leaving the project after negotiations over their continued involvement broke down, the Business Journal has learned.
The joint venture of DPR Construction Inc. and Skanska USA "will transition completely off the project in the next several weeks," according to an internal email sent to Skanska employees, which I reviewed this week.
The news comes weeks after first reported
that Apple was bringing on Rudolph & Sletten to complete the interior buildout on the main ring-shaped building — a job many expected DPR/Skanska to do. At that time, DPR and Skanska were still expected to finish the main structure, or "core and shell."
But in the end, that was not to be. The email from Skanska USA Chief Executive Richard Cavallaro said that the contractors "and our confidential client were unable to come to an agreement during negotiations for the revised scope of work for its research and development campus in California." (Skanska and DPR are not allowed to say they are working for Apple, though their involvement is well documented, based on city permit records.)
It's unclear why the negotiations fell flat: None of the parties involved returned messages seeking comment this week. The latest news of the departure was first reported last week by the Swedish real estate magazine Property World ( English translation) and independently confirmed by the Business Journal.
Apple's multibillion-dollar project — which is said to employ first-ever construction methods — is among the most ambitious and expensive private office developments ever attempted by a corporation. While drone flights over the site have shown rapid progress, the Foster + Partners-designed project — dubbed Apple Campus 2 — hasn't been without difficulties. I reported last month on rumors that the schedule may have slipped; Bloomberg reported in 2013 that costs had ballooned, thanks partly to Apple's exacting demands.
A general contractor shakeup is rare for a project of this size, and it's unclear exactly what is behind the apparent friction between Apple and its builders.
"It's challenging when you're doing first-of's," David Shields, director of the construction management program at the University of Nevada, Las Vegas, told me last month. "They certainly have a lot more schedule and cost risk associated with them."
In the email, Cavallaro said that the news is "disappointing," but added that "we believe this decision is in the best interests of our shareholders and employees." The departure will lead to a cancellation of $800 million in order bookings for Skanska. Cavallaro said the joint venture team "has put in place $1.5 billion worth of work to date, and we are very proud of our contributions to this iconic project."
Still, the endgame could be seen as a disappointment especially for Skanska, which has been looking to expand its book of business for private office work in booming Silicon Valley. The connection to the Apple campus was seen as a prestigious win for Skanska even though the company was forbidden by Apple from discussing its position publicly. (Redwood City-based DPR has a longer history in private office work, especially technically challenging jobs, in the region.) Both joint venture partners had invested heavily in the job, including in formulating new construction approaches for the unique structure.
Skanska, which is based in Sweden, remains one of the world's largest general contractors, and the email urged employees to keep their heads up. "While significant, we all know this alone is not the story of Skanska," it read. "We continue to deliver quality work nationwide every day for our customers. Recent selections, especially the LaGuardia Airport project, give us plenty of reasons to feel good about the road we are on." (Skanska was tapped to help build a $4 billion replacement for the airport's central terminal.)
Closer to Cupertino, Skanska's civil division is part of a joint venture, with Shimmick and Herzog, building the Bay Area Rapid Transit extension to San Jose.
It's unclear who will take on DPR/Skanska's scope of work on Apple Campus 2. One suggestion from two industry sources, which is unconfirmed, is that Holder Construction will replace the joint venture on the core and shell. Atlanta-based Holder, which has done data center work for Apple in the past, was in recent weeks brought in to oversee the central plant and mechanical, electrical and plumbing systems — a huge job.
Other general contractors working on the project include BNBTBuilders (building the underground auditorium and a fitness center); a BNBTBuilders joint venture with Webcor Builders (a later phase of the campus for additional R&D buildings); McCarthy Building Companies (working on the 6,000-spot parking garage) and Granite Construction Co. (on road widening and utility work).